INVESTIGATION
The secrets are unravelling with this Oak Island treasure mystery it is evident that this mystery is about triangles and right angles. Right angle square and compass are the basic tools of the Great builders of ancient structures and the Freemasons used these instruments in their rituals basically these tools were instrumental for me in creating this Oak Island triangle theory.
Oak Island information will soon solve this mystery but Birch Island holds the secrets to this incredible treasure mystery. These mysterious symbols and many more secrets I behold about this famous treasure mystery will eventually solve this enigma.
WELL DOCUMENTED OAK ISLAND STONE TRIANGLE Blue Print Up-Date
LOGICAL EXPLANATION
http://freemasonry.bcy.ca/texts/oak_island/oak_island05.html
OAK ISLAND STONE TRIANGLE NEW INFORMATION AND WHAT ITS MEANSINTERPRETATION

The Oak Island stone triangle found south of the money pit was miss-interpreted, it was believed to be pointing north. This stone triangle and its northern point is center of a pyramid diagram and aligns in a different direction other than the dividing south/north stone line through the stone triangle. This stone triangle is a blue print for a much grander structure made by the original builders of this Oak Island set up, these are all concept clues from my across Canada travel journals exclusive for friendly viewers only.
***RIGHT ANGLES, INVERTED TRIANGLES***
FAMOUS BIRCH ISLAND TREASURE TRIANGLE
REVELATION
Birch Island as seen from above it has a symbolic triangle carved into its landscape. By describing the beach area on the north side of this triangle there seems to be some work activity done to it in the past to the beach area it is discoloured from the rest of the contours of Birch Islands beach areas. The water depth is unusually deep at the right angle of the triangle beach area it's obvious that this is a artificial Beach just by a visual observation.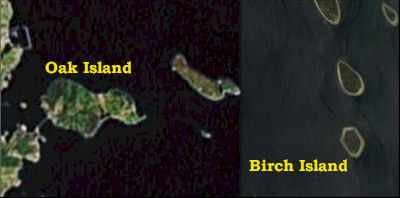 View more diagrams at other site




MY CIPHERS
The Oak Island symbols that has triangles co-relates to the well documented Oak Island stone triangle, finally the newly discovered Birch Island triangle seems to be a viable connection to Oak Island with this triangle theory of mine. The evidence supports the claim that the Oak Island treasure is in the Birch Island's triangle. The Oak Island stone triangle is the blue print of the Birch Island triangle the famous triangle that I discovered that is recieving attention world wide.

NATIONAL TREASURE IN THE AMERICA'SYou better believe it!
*****GRAIL KNIGHT***** Oak Island's National Treasure Hunter/Researcher

Sincerely

Keith Ranville
UP TO DATE LEADING CANADIAN EXCLUSIVE OAK ISLAND MONEY PIT TREASURE MYSTERY TREASURE HUNTING NEWS/RESEARCH/DISCOVERIES/THEORIES
http://oakislandtreasurenewsarchives.blogspot.com/
CONTACT INFORMATION
keith_ranville@hotmail.com